At the CAGP National Conference, April 19-21 in Vancouver, new research was presented on the progress of the Will Power campaign and what has changed when it comes to legacy giving in Canada.
In 2019, the CAGP Foundation undertook a comprehensive study with Environics Analytics to better understand the factors influencing Canadian charitable giving in Will, with the following key findings:
5% had left a gift in a Will
31% were interested (Under 50 most interested, 65-75 most serious)
Biggest barrier – "I want to leave everything for loved ones."
9% said they spoke to a financial advisor, 8% said they spoke with a financial + legal advisor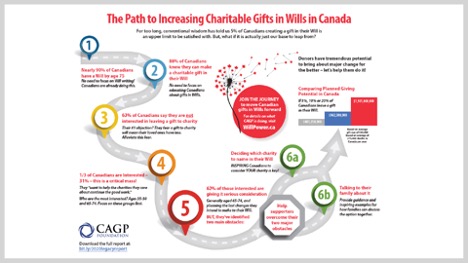 This study led to the following question: For too long, conventional wisdom has told us 5% of Canadians creating a gift in their Will is an upper limit to be satisfied with but, what if it is actually just our base to leap from? It also became the driver behind Will Power; the biggest effort in Canada's history to make leaving a gift in Will to charity the social norm.
What's new in 2022
We've moved from 5% to 8% of Canadians who have left a gift in their Will. That's 1.2M more Canadians who have left a gift in their Will in just 3 years! (And an expected $37B in future donations)
The "typical" legacy giving donor may have changed
- 50 years + —6% have left a gift in their Will
- Under 50 – 10% have left a gift in their Will
New research on giving through RRSP/RRIF/TFSAs
-An additional 8% of Canadians have named a charity as a beneficiary of their RRSP/RRIF/TFSA
-33% of Canadians are aware they can give this way
Only 12% of Canadians speak to their financial advisor about charitable giving & charitable tax benefits
-31% of Canadians say they don't have a financial advisor
For more information on the Will Power Campaign, visit https://www.willpower.ca/how-it-works/.