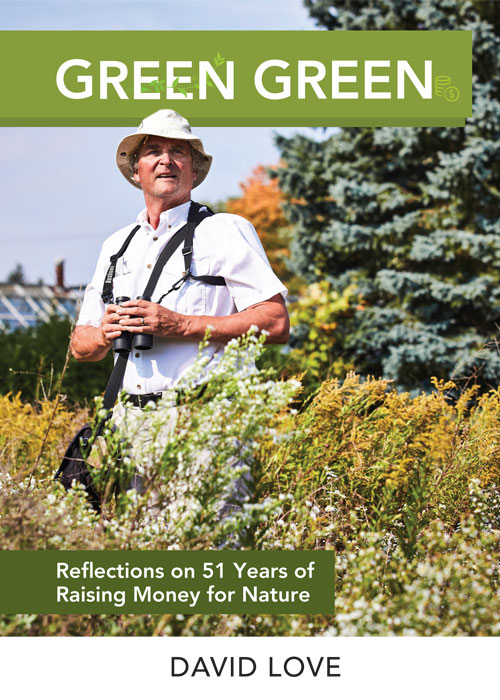 Fundraisers do important, challenging work. My fundraising "hood" is the Greater Toronto Area (GTA) in Ontario, Canada, a marvellous place to do my work. There are innumerable worthy local causes for which you can raise money, but it is also one of the most difficult places to do it. That's because there are probably more fundraisers in the GTA than anywhere else in the world! The largest chapter of the Association of Fundraising Professionals (AFP) is the GTA, with more members than New York, Chicago, LA or San Francisco, a reflection of the huge number of Canadian charities that are constantly looking for money.
A central premise of my book, Green Green however, is that raising money for nature is different. Here are twelve reasons I make that statement:
1. This issue is the most important.
I don't mean to downgrade education, big health, hospitals, international development, human rights, women's issues, and a host of other worthy causes. But without a healthy functioning Earth, all those concerns are secondary and with climate change now putting Homo sapiens closer to the endangered species list, this has never been more true. There is no Planet B. This gives our issue unique momentum and importance.
2. We face a common misunderstanding.
Many people think that because of the extensive media attention being paid to the environment, lots of money is being donated to this crucial issue. In the mid-1980s we would have a small celebration in our tiny WWF office if our issue got any mention at all in mainstream media. At that time, about 3% of charitable donations went to environmental causes, but because this includes donations to humane societies, the actual investment in the environment was likely more like 1.5%. Today, despite the media frenzy, that investment has grown very little. The latest number from the Canadian Revenue Agency is 3.5% and it still includes humane societies.
3. We have dizzying competition.
Perhaps because our issue is so important, we have dizzying competition. And not just from other, better-funded charities, but from each other. You need only look at the Green Budget Coalition, a group of 22 national charities working to rescue our embattled planet and that's just at the national level. Provincial and local environmental organizations are also our competitors. Folks wanting to make a gift to help the environment have a plethora of options. Part of me says this is a good thing. We can't have too many organizations engaged in the world's most important issue. But the vigorous competition from each other makes our job more of a challenge...every day.
4. Change is slow
In our business, change is slow. Victories take time, and our planet will not heal overnight. This makes our already difficult job raising money—I mean creating value—even harder.
5. We have opportunities to show our work in action
On the bright side, we have unique opportunities to show donors our work in action. While change takes a long time, early signs of progress can be quickly evident. This means we can take donors on great mission-based outings.
6. We are challenged to make our projects tangible
We are deeply challenged to make our projects tangible. We don't build buildings, fund schools, buy machines, release prisoners, or cure diseases. We must work hard to make it clear exactly what a donation will do.
7. New Canadians show a deep commitment to nature
New Canadians show a deep and fundamental commitment to the natural world. People coming here from other countries appreciate nature. Perhaps this is because in Canada, you don't have to go far to have your breath taken away by it. While many charities need to work hard to create an affinity to their cause, ours flickers in everyone. It's a matter of finding out how to fuel the flame.
8. We want more than money
We share this with other charities, but for those of us raising money for nature, it's front and centre. Of course, we want donor money; but we want more. We need our donors to be advocates for nature. We need them to "walk the talk," to tread more lightly on the Earth. And, we need them to influence others to do so — family, friends, colleagues, and elected officials. We need their money and their actions.
9. Fundraisers have to be environmentalists first
I think those who raise money for the environment have to be environmentalists first. Like Sisyphus, we are often pushing an enormous rock up a high hill, only to have it roll back again, and this takes an immense toll. I've seen many highly qualified people give up on their attempts to create value for the environment. In fact, a deep commitment to the cause is a prerequisite if you want to raise money for Nature. This deep commitment to the cause will also make it easier to resist opportunities to move to a non-environmental charity. If you are good at what you do, you will be invited to leave and often for more money. DON'T!
10. Our issue can inspire us every day!
Renewed energy comes from "Vitamin N." A delicate wildflower. A bird song. A glorious dawn morning.
11. Donors are thinking deeply about the future
And finally, donors to nature are already thinking deeply about the future. This means that inviting our donors to think about leaving a legacy gift is easier and perhaps, promises even more success.
This is an excerpt from Green, Green - Reflections on 51 Years of Raising Money for Nature, available from Civil Sector Press. Enter SN20 at checkout for a 20% discount.
---
David Love raised his first dollar for the environment in 1969. He raised his most recent one today. He now occasionally works on legacies with his daughter's direct response company, Agents of Good, where he is affectionately known as "The Godfather of Good. david@agentsofgood.org
Tree Photo by niko photos on Unsplash.